It's that time of year where the kids get a week off of school. During your travels, whether it's around town or to that vacation you've been planning you can trust your Mercedes-Benz.
Safety is Mercedes' top priority thanks to these Mercedes features:
Pre-Safe®
Distronic PLUS with PRE-SAFE Brake
ATTENTION ASSIST
Active Blind Spot Assist and Active Lane Keeping Assist
Accident Investigation
Pre-Safe®
Pre-Safe® prepares for an accident before it happens. When the feature senses a collision may happen it helps prepare for those moments. This is done through sensors in the vehicle. When the sensors detect particular conditions they will act accordingly. For example, if the sensors detect extreme skidding the front seatbelts will be tightened, the front head restraints adjust, and the windows, including the sunroof, close.
DISTRONIC PLUS
DISTRONIC PLUS with PRE-SAFE Brake allows for automated response to stopped traffic. This includes advanced radar sensors that scan traffic ahead for slowing or stopped traffic. If the feature senses that a collision may happen it will initiate up to 40% braking power, alerts the driver, and engages the Pre-Safe® system as previously referenced above. If the driver fails to break the system can then apply 100% of the breaking on its own to reduce the possibility of collision.
Attention Assist
Attention Assist takes note of the driver's driving style in the first few minutes of driving. If Attention Assist detects any steering corrections that imply drowsiness it will alert the driver encouraging them to stop and rest. The feature takes other factors into account including crosswinds, road texture, and driver interaction with the vehicle. Active Blind Spot Assist ensures safety on multiple lane highways. Aside from using your side mirrors, this feature detects if another vehicle is alongside your Mercedes through rear bumper sensors. A red icon then lights up in your mirrors to let you know there is a car in your blind spot. If you signal for a lane change it then sounds an alert.
Active Lane Keeping Assist
Active Lane Keeping Assist features a camera watches the markings on the pavement as you travel. It senses if you are drifting or not staying in your lane. If it finds you are, the steering wheel vibrates. Some systems feature applying the brakes no one side of the vehicle.
Accident Investigation
Accident Investigation collects and evaluates information to keep improving existing safety features. This is Mercedes' way to keep an accident from happening again and ensure a safer future.
Aside, from the Mercedes having these safety features you can count on it's also important for you to make sure your service is up to date. Schedule your service appointment today to have your car checked out and take advantage of our current Oil Change offer that expires March 31, 2018.
Click the image to schedule your appointment, and mention this post for the $89.95 Oil Change & Tire Rotation. Offer ends March 31, 2018.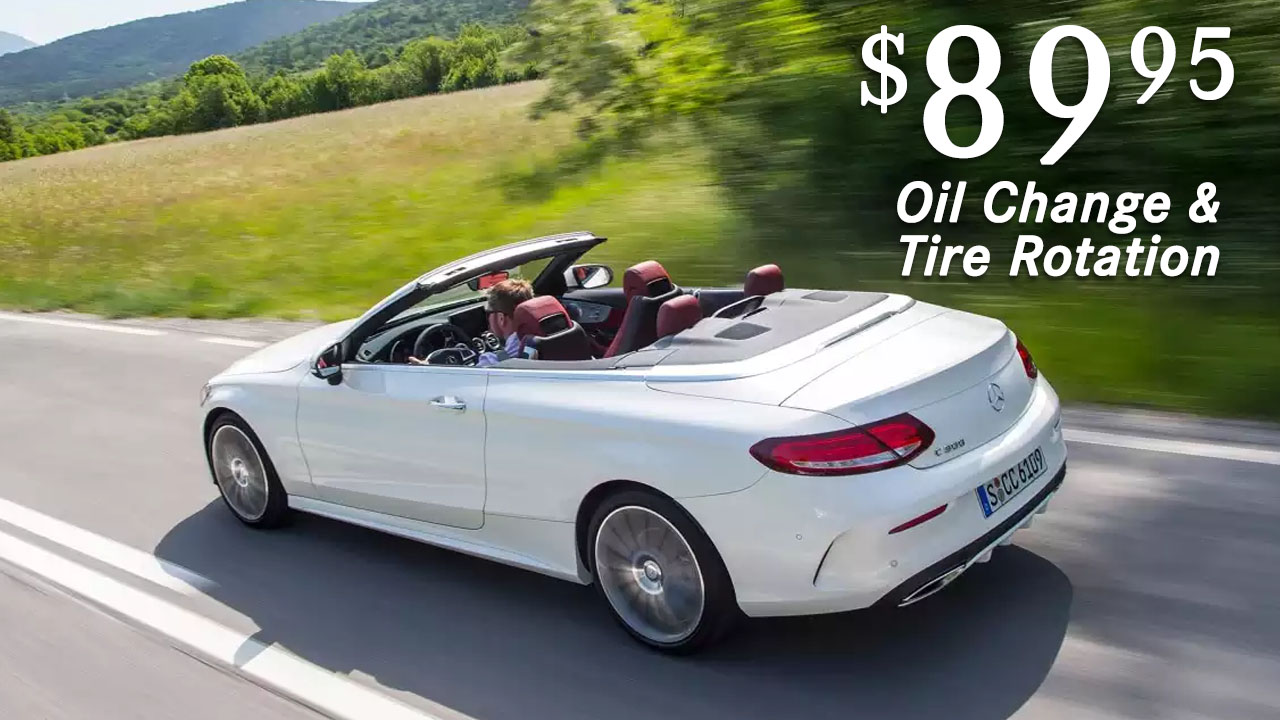 *Up to 5 quarts of oil. For Mercedes-Benz Model Year 2008 and older. Mercedes-Benz Model Year 2009 and newer must have Service A completed. Service A is at additional cost. Price advertised for Service A/Service B includes all factory-required components. Please refer to your maintenance booklet for the complete list of factory-required services and details on the specific intervals for your vehicle's year and model. Tax and disposal fees not included. Excludes AMG, Diesel & V12. May not be combined with any other offers. No cash value. Available to most models, some restrictions apply. Price does not include tax and misc. charges. Mercedes-Benz vehicles only. See advisor for details. Offer expires
03/31/2018
.