It's vacation season which means traveling and relaxing! Before you hop in your vehicle for a road trip it is important to ensure safety and comfort.
Make sure you:
Are hydrated
Have a planned route
Well rested
Have a full tank of gas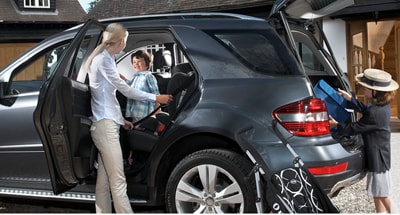 Prepare for your perfect vacation with these accessories for your Mercedes:
· Cargo Hitch
· Luggage Roof Rack or Cargo Bag
· Trunk Organizer
· Electronic Mounts
· Portable Battery
· Neck Pillow
· Seat Cover
· Behind the seat organizer
· iPad Headrest mount
· Window Shade
· Travel Mugs
· USB Car Charger
· First Aid Kit
Comfort
For the non-driving passengers trying to nap or relax can be challenging. A neck pillow will allow for a comfortable nap or time watching a movie on their iPad
When traveling during the day, the sun can be annoying in the back seat for children. A window shade can block the sunlight without being a nuisance to the driver. You can also opt for some cool sunglasses for your whole family!
It's important to stay hydrated during your travels. The perfect travel cups fit right in your Mercedes' cup holders.
If you're traveling with one of your fur babies a seat cover can help keep them comfortable and your back seats clean.
Accessibility
For all of your electronics: phone, iPad, an USB car charger and portable charger allows you to make sure your battery stays charged for use. If you need your phone to give you navigation a phone mount.
For your electronics, including your iPad, for your children or passengers to watch on your ride, can be mounted behind a front seat's headrest.
Luggage
Utilize and create extra space with a cargo hitch. This allows you to use your trunk to store other items while keeping your bulky luggage safely and protected.
Don't have a hitch? No problem, we can install one for you or you can also use a luggage roof rack and cargo bag to get the same effect.
Organization
Because you'll be able to put your luggage on one of the racks you will have your whole trunk available. With a trunk organizer you can separate food, games, towels, etc.
Another option includes the behind the seat organizer to store small things such as electronics, books, headsets.
Safety
Just in case you may need a Band-Aid, you should have a first aid kid always stored in your car.
To also make sure your car is safe for travel schedule a service appointment today! Click the image below to take advantage of our current oil change offer.